Regain control of your life.
Quit wasting your time with itch-inducing powders, lotions, pastes, hairpieces, caps, and just about every other outmoded, ineffective hair-loss cover-up option available today.
Meet Zang
Given his wealth of experience and expertise, empathy and understanding, and being one of the first global practitioners schooled by the inventors of the SMP therapy, Zang is widely regarded as one of the most sought-after experts by both clients and clinics due to his empathy as well as understanding.
He has performed tough treatments while concurrently educating and mentoring a new generation of SMP experts who are making a reputation for themselves all around the world. You should know that Zang and his team's efforts have already resulted in over 10,000 pleased clients and over 200 SMP practitioners which makes him without a doubt the expert among experts!
Come in and say hello!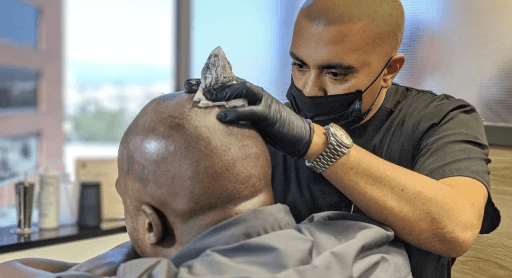 FAQs
Scalp Micropigmentation (SMP): What is it and how does the procedure work?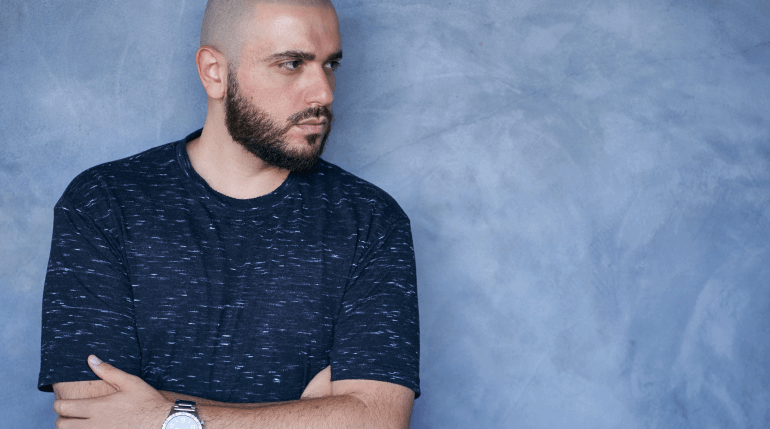 Scalp Natural pigment deposits derived from plants are transplanted into the scalp's dermal layer through the use of a non-surgical procedure to provide a more natural look. The pigment deposits mimic hair follicles, giving the user the illusion of having a full head of hair. If you are completely bald, the 5 o'clock shadow look is an option; if your hair is receding or you are unsatisfied with the results of your hair restoration and wish extra thickness, SMP is the process for you.
In order to achieve my desired results, how many SMP treatments should I undergo?
Scalp Micropigmentation is typically done in two sessions separated by one week. Due to the fact that we are interacting with your skin, the largest organ on your body, we anticipate that some pigment will be refused by your skin soon after your first treatment. We anticipate significant advantages after the first treatment, but we foresee more of a conclusion of the therapy following the second session. A third session may be scheduled within 1-3 months after the second treatment to finalize the outcomes.
How long is each therapy session?
Each procedure took between 2-4 hours, with the duration mostly determined by the quantity of labor required. The first operation is often the most time-consuming since we are constructing the forehead and introducing the hair's fundamental layer. Each subsequent treatment is typically shorter in length; nevertheless, it might just vary according to the extent to which previous therapies were maintained.
Who decides how the hairline should be shaped?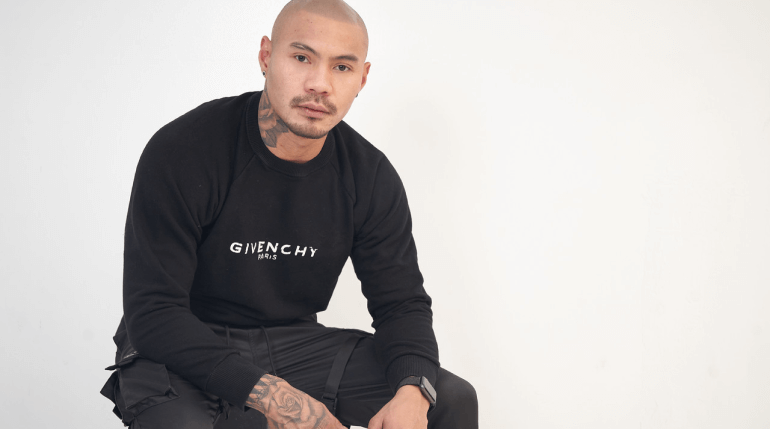 Numerous factors impact which hairline is best suitable for you. We tailor your hairline to compliment your specific features in order to achieve the most natural and appropriate result possible. Our estimates also take into account your own preferences, since there are several possibilities to what may seem genuine on any given individual.
What should I do now that I've had the three treatments?
After adhering to the first aftercare suggestions, you may relax and enjoy the advantages of SMP treatment. We do provide a one-year guarantee on our treatment programs, so if any pigment thinning occurs during that period, you can rest assured that we will patch it up at no extra expense to you. Following that, we'll reconnect in a few years!
What are you referring to when you say "a few years"? I'm not really certain what this signifies.
Typically, our clients will need touch-ups within the first 5-8 years of service. Even though this is a permanent procedure that will stay eternally, typical wear and tear on the skin's surface causes it to lighten up over time.
What are the aftercare recommendations?
To minimize excessive fading and contamination, it is critical that you adhere to our 4-day post-treatment requirements. That would have to be no touching, washing, or cutting for the first four days, and this means that you should also refrain from exercising. Following each treatment, you are permitted to immediately wear a hat, and if you want to sleep on it, there is no need to worry about the pigment smearing or spreading on your pillows.
Download: Mid-Treatment Advice
As a consequence, I won't have to miss work?
Scalp Micropigmentation is a non-invasive, non-surgical technique done on the scalp; there is no downtime associated with it; all that is necessary is that you follow the post-treatment instructions for four days. Many of our clients come in for medicine and then leave the same day, reporting back to work the next morning.
Is my SMP visible to others once I finish the SMP treatment?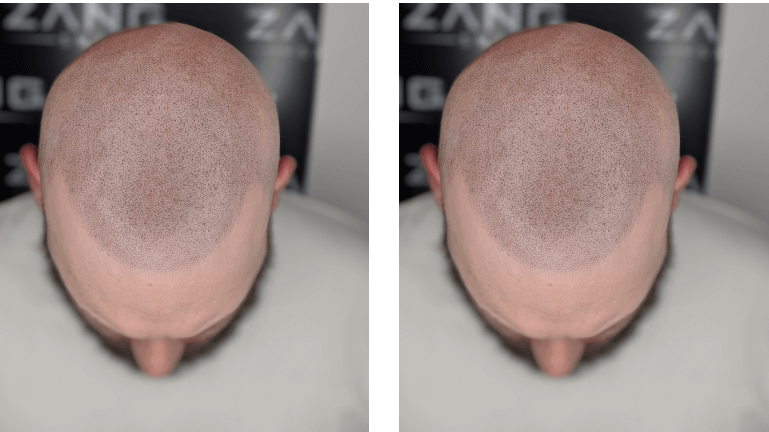 Due to the fact that the pigments are freshly deposited, they will seem stronger shortly after the first treatment. Overnight, you will notice that the colors on your skin will soften and settle. The color will fade during the next 48-72 hours, and the degree of redness is influenced by the sensitivity of the skin, however, almost all clients notice a significant decrease in redness 48 hours after their first treatment. After the first settling period, your procedure will seem completely natural.
Is it likely that the SMP therapy will be painful?
The majority of consumers who have had SMP report that the discomfort is comparable to that of a conventional tattoo. While each client's pain tolerance varies, your health, as well as your safety, are our top considerations, as our specialists will ensure that the operation goes as easily as possible.
After making a decision of undergoing SMP, should I maintain a shaved head?
During the appointment or via a web-based examination, we will assess your hair loss. Once we have a better understanding of the kind of hair loss you are having, then we can build a treatment plan for you that incorporates the style and look that we believe will be most beneficial with our SMP approach.
Due to the amount of coverage produced by SMP on the crown of your head, customers with Norwood 6-7 hair loss must have their hair cut to maintain their look. It will become more obvious as your hair grows longer in the back and sides, as there is a significant color contrast between your hair as well as the Scalp Micropigmentation Procedure. As a result, we are simulating hair follicles with pigmentation, that will never mature or form a three-dimensional texture, and this procedure is considered permanent cosmetic surgery.
Filler procedures are those that enhance the volume of an existing hairline or the crown. If you are one of those individuals who still have a little amount of hair around the treatment area, this will allow our experts to integrate the SMP into the surrounding hair, since these individuals are excellent candidates for filler operations.
Do you also offer scar concealment services?
Yes! The treatment of male pattern baldness isn't the sole use for scalp micropigmentation. It may also be used to hide scars from previous surgeries or injuries, among other things. Scars from both FUE and FUT transplants may be covered using SMP.
Is it necessary to clip my hair before starting SMP treatment?
Unless otherwise requested, we usually ask our clients to come with their hair at the shortest length they intend to keep if we are performing a filler treatment or scar concealment. However, if you fall into the 6 or 7 hair loss group, you will need to shave your head before coming in for treatment and retain it at that length during the procedure.
What are the essential things to do in order to see to it that my SMP will look good always?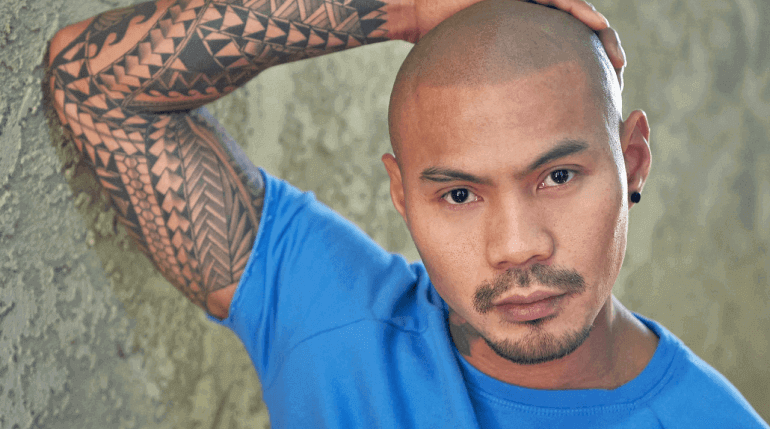 After having undergone the SMP procedure, we are going to provide suggestions for products to use in order to maintain your treatment in excellent working order, so you can please read the link to our product idea page to obtain more information.
Will keeping my head shaved have an effect on my treatment?
Because the treatment is positioned in the epidermal layer of your skin, you may shave as well as wash your hair on a regular basis without affecting the therapy, because the truth is, the great majority of our patients who have this procedure shave every day!
What is the most effective approach to shield my SMP from the sun?
If the pigments are constantly exposed to that much direct sunlight, they may weaken, and you may end up damaging both the procedure and your scalp over time. Regardless of the season, always wear sunscreen or a hat when heading out and expect to stay in direct sunlight for more than an hour.
How much will it cost you?
The cost of SMP differs from case to case and is dependent on the level of hair loss and the number of treatments needed. The first two treatments will be arranged one week apart, with a third treatment planned 1-3 months following the second. Each scar hiding procedure costs between $800 and $1000. Treatment for class 2-4 hair loss costs between $2400 and $3400, and if you belong to the hair loss classes 5-7, the price will vary from $3400 to $4200. The cost of 2-3 scar concealing procedures on the top of the scalp ranges from $4200 to $5200.
When do the SMP procedure payments have to be made?
A $400 booking deposit is required to secure your treatment dates with us and in most circumstances, an appointment involves an 8-week waiting time. After that, we split the funds evenly between the first two treatments, and if you run out of money before the end of the case, we also provide loans to our clients.
What is the best approach to begin my process now that I've decided on SMP?
Please feel free to contact us at 310-425-4975 or info@zangsmp.com to schedule your free consultation appointment. However, in the event that you do not have the leisure to come into our office, you still have the option to send us a picture of your scalp from top-view, birds-eye view, and even the image of your scar because we also offer phone counseling sessions or even on Facetime or Skype video sessions with one of our specialists.
Send us a message