Scar Concealment in Los Angeles with SMP
Scalp micropigmentation has been a proven method of addressing thinning hair and hair loss in men and women for nearly two decades. But SMP is also an effective solution for concealing noticeable scars on the scalp due to surgery or injury. Many of our clients have come seeking help with scars suffered as a result of other hair restoration methods that didn't succeed or left behind too much scarring and scalp damage so as to become far more noticeable than anticipated.
The fact is, scalp micropigmentation has many benefits and clients who have undergone Follicular Unit Transplantation (FUT) or Follicular Unit Extraction (FUE) as a means for dealing with hair loss have turned to SMP treatments to reduce the visibility of the scarring that is an all too familiar (and often unavoidable) component of these invasive techniques.
In the case of the FUT procedure, a strip of skin is surgically removed from the back of the scalp and the hair follicles harvested from that piece of tissue to transplant into the bald spots where hair is missing. The FUE procedure isn't as an invasive as FUT but it can leave behind small white scars where the follicles were extracted. If follicles at the donor area have been removed excessively, it can leave behind bald and patchy spots.
At the end of the day, you undergo hair restoration treatments to appear as if you have more hair, not less. The evidence of your hair loss solutions is highly visible on the scalp, which one might think defeats the purpose of FUE and FUT hair loss surgeries. Men who prefer to wear tightly shorn, crew-cut hair styles can have a very difficult time concealing the scars that come with these solutions.
But luckily, scalp micropigmentation can solve the problems of thinning hair and conceal the scars that might have been left behind with other less reliable hair restoration options. You don't have to live in discomfort or struggle with low self-esteem. SMP can help you conceal those scars!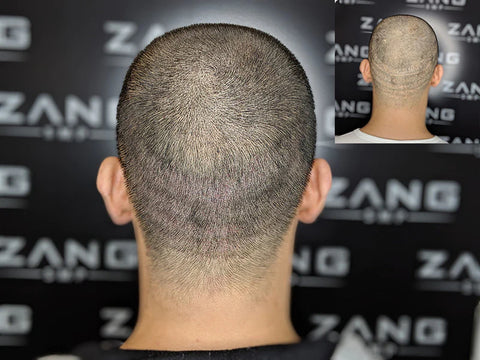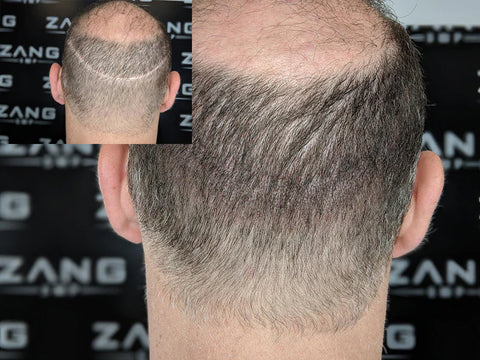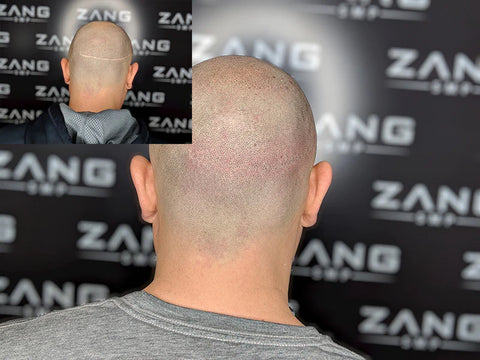 Scalp Micropigmentation as a Form of Scar Concealment
Scar concealment using scalp micropigmentation is not unlike the treatments that we provide for clients who want more density and volume to treat thinning hair or patchy spots. The efficacy of SMP treatments for hiding the scars of our clients can vary depending on the severity of the scar with respect to texture and size. Scars that are raised or indented could impact the resulting aesthetic or scars that are significantly noticeable might require their hair to remain at a slightly longer cut in order to fully hide the scarring.
Once the SMP treatments are completed, the surface of the scar will blend in with the color and appearance of the surrounding hair. However, the surface texture of the scar will still remain and this could affect total concealment. The SMP procedure is only designed to cover the color of the scar, it cannot emulate or disguise the surface texture nor will it smooth out or eliminate the surface texture.
Hiding Cranial Scars
SMP is a useful and effective procedure for hiding cranial scars, particularly for those clients who are also dealing with thinning hair or advanced hair loss. Ideal candidates are those who prefer to wear their hair longer instead of tightly shorn or shaved because they are concerned about revealing the scars that are visible on the scalp.
Fortunately, scalp micropigmentation has come a long way in the range of flexibility in the available colors of pigment that can be used to hide scars and restore density to thinning hair. Even clients with red or blonde hair can enjoy the many benefits that come with SMP treatments.
Be advised however, clients with skin conditions such as eczema or scars that are keloid may not be the best candidates for SMP treatments as the surface layer of the scalp is not suitable for implantation of the pigments. The procedure will likely be unsuccessful.
Do SMP Treatments Hurt?
Clients with a low tolerance for pain can still get SMP treatments without too much discomfort. That's because the micropigmentation process doesn't penetrate very far beneath the top layer of the skin. If you have had a tattoo anywhere on your body, you will probably find that it's no more or less painful.
In fact, most of our clients report a dull discomfort as opposed to actual pain when the scalp micropigmentation procedure is being performed. In the event you are feeling more pain than discomfort, we ask that you notify your practitioner immediately. You can take frequent rests to prevent the pain from becoming too overwhelming.
In order for the SMP treatments to be completely effective, two sessions are required, scheduled one week apart from each other. Some clients may need a third treatment session approximately one to three months after the second session to apply any final touch-ups or replace pigments that have been rejected by the scalp.
Preparing for Your SMP Treatments
ZangSMP recommends that clients who are preparing for their first scar concealment treatment apply bio-oil to the scars so they may become softer and easier to work on. This is an anti-inflammatory topical, infused with nutrients vitamin A and vitamin E, for improving the appearance of the scars and providing elasticity to the skin surrounding the scar.
Moisturizing is an essential step in preparing for scar concealment because it allows for maximum retention of the pigments. We recommend applying bio-oil to the areas where you plan to have SMP treatments applied once a day before bedtime for best results.