This is Zang
He has been trained by the creators of scalp micropigmentation. His procedures and techniques were handed down by the innovators of this treatment for hair loss and that has made Zang one of the most sought after practitioners of SMP by clients and clinics alike. This skilled specialist has been administering treatments to individuals just like you and doing it with compassion, empathy, and respect.

The team at ZangSMP have performed over ten-thousand treatments for clients across the globe and shown others how to develop and cultivate these SMP skills for use in their own hair loss treatment facilities.

Call ZangSMP to find out if scalp micropigmentation is the right choice for your hair loss.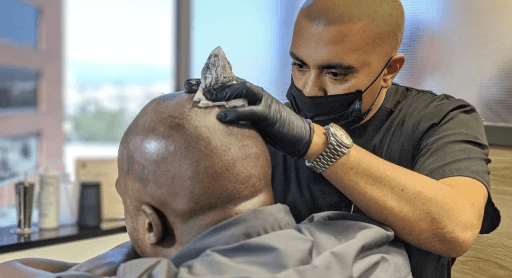 FAQs
What is Scalp Micropigmentation (SMP)?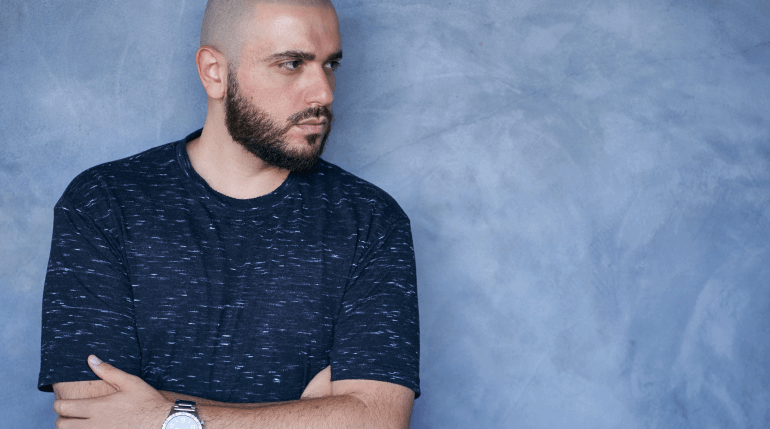 Scalp micropigmentation is a non-invasive procedure that requires no surgery, no downtime, and no recovery period. The process is performed by depositing organic plant-based pigment directly into the dermal layer of the scalp for the purpose of recreating a natural-looking full head of hair.

SMP treatments can help individuals who are bald or fighting a receding hairline and thinning hair at the crown of the head and at the sides. Whether it's additional density for existing hair or restoring the appearance of a tight-shaved head for a five-o'clock shadow aesthetic. Scalp micropigmentation is the effective alternative to hair transplants and topical creams and solutions that offer big promises and fail to deliver.

When those options disappoint, SMP will get the job done.
How many treatments do I need?
For most of our clientele, two treatments will be sufficient to achieve the desired results. In some cases, a client may need a third and final treatment if the previous two are unable to deliver the expected results. Those first two treatments are administered within a week of each other because the skin will often reject some portion of the pigment that was implanted during the first treatment session. The second treatment is provided to help return some of that rejected pigment and replicate the appearance of natural-looking hair follicles.

But two may still be insufficient for some clients who suffer significant rejection after those initial treatments. The third treatment will restore the pigments that have been lost to give you those results you really want to see in the mirror.
How long is each treatment?
The length of each treatment will depend largely on the needs of the client and their particular hair loss challenges. Keeping that in mind, the average length of a typical scalp micropigmentation treatment can last anywhere from two to four hours. In most cases, the first session tends to last longer than the second or third because it's during that first treatment when your hairline is constructed and the foundational layer is established.
Who decides on the construction of the hairline?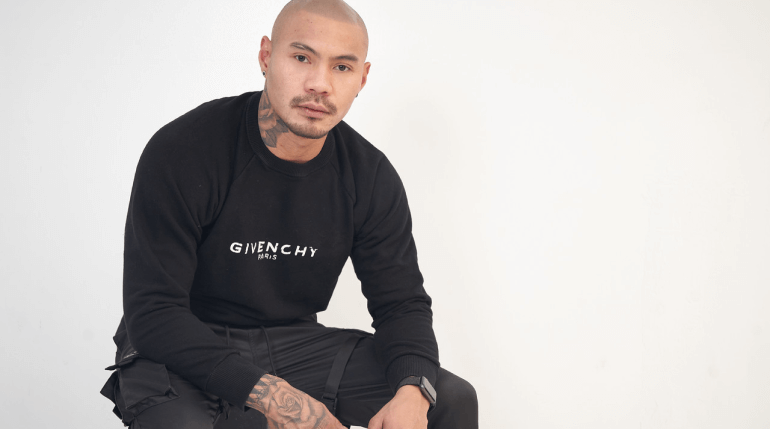 Ultimately, you are the one who makes that decision. The practitioner will advise you on the options that are the most appropriate for your features. The goal is to construct a hairline that appears natural so you enjoy the best results. SMP is a permanent solution to hair loss, you want to be sure you're happy with the work from the start.
I've already had 3 treatments, now what?
Clients who have received three scalp micropigmentation treatments won't need anymore until it's time to get touch-ups. But in order for the scalp micropigmentation to reach its full potential, every client will need to follow the set of after-care instructions that are given after treatment. These are very specific instructions that are designed to preserve the pigment after it has been implanted into the dermal layer of the scalp.

All ZangSMP work is guaranteed for one full year. If the pigment begins to fade or grow lighter after the treatments are administered, we will gladly perform touch-up work to restore the lost pigment, free of charge.
When will a touch-up be necessary?
The skin goes through a lot of wear and tear and that can affect the appearance of the pigment in the skin. But since this is a permanent procedure, the pigment is designed to last. However, as time passes the pigment can begin to break down and fade. On average, our clients return to the office anywhere from five to eight years after the first set of SMP treatments are administered.
What are the aftercare instructions?
In the days after a scalp micropigmentation treatment, you will be issued a set of after-care instructions by your practitioner. These should be followed to ensure that you get the best results from your SMP treatment. The instructions are rather simple – you will be instructed not to touch or wash your scalp, avoid cutting your hair, and refrain from participating in any workouts for a period of four days. The reason for these instructions is to help the skin retain the pigment and ward off contamination.

You can sleep as you would normally since the pigment will not smudge or stain the pillow or the bedding and you are free to wear a hat if you wish.
Will I miss any work during treatment?
Scalp micropigmentation is a non-invasive procedure, therefore you will not miss any work after receiving SMP treatments. Many of our clients return to work the very next day.
Will people be able to tell I have had the treatment done?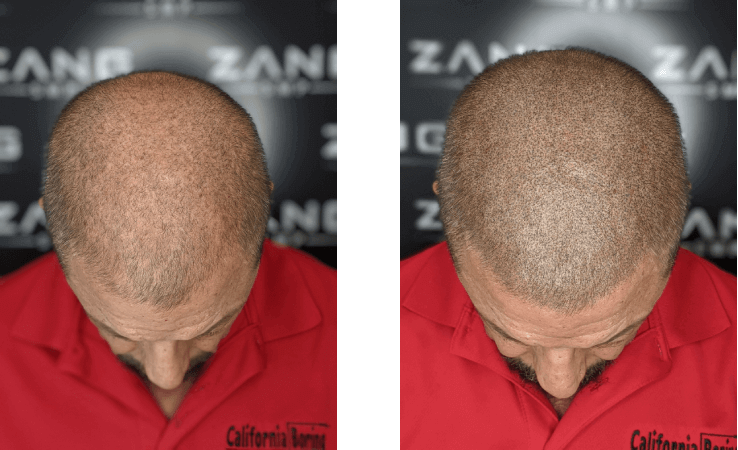 While the scalp will appear slightly red and irritated and the pigments much darker and bolder than normal, these symptoms will subside after two to three days' time. Once the pigments have settled and the skin relaxed from the implantation process, the scalp will appear entirely natural regardless if you are having SMP treatments performed for additional density to existing hair or to replicate the appearance of hair follicles that have long since disappeared.
Is SMP Painful?
Everyone's pain threshold is different. What might be considered uncomfortable by some may not be for others. In the case of SMP, this procedure is non-invasive and our practitioners try to make every effort to prevent the client from feeling discomfort at any time. We want your scalp micropigmentation experience to be pleasant and successful and we will take every precaution to ensure that happens.
Do I need to keep the shaved look?
Part of the initial consultation process involves having an SMP practitioner examine your level of hair loss and discuss your objectives for solving the problem. Once the examination is complete, an appropriate treatment plan will be decided upon to address your amount of hair loss as determined by the Norwood scale

Clients at a six or seven on that scale will need to keep the shaved look because the texture of the hair and the pigment will not blend well together. Keeping the shaved look will help to eliminate that problem.
Do you perform scar concealment?
Scalp micropigmentation is an ideal method of scar concealment. We offer services for clients who are eager to conceal injury and surgery scars including FUE and FUT transplant scars.
Do I need to cut my hair before the SMP treatment?
Clients who request filler treatments or scar concealment will need to cut their hair to the shortest possible length to ensure the success of the micropigmentation process. Clients at a Norwood six or Norwood seven for hair loss will need to shave their head and continue doing so going forward after receiving SMP treatments.
What do I do for optimal maintenance?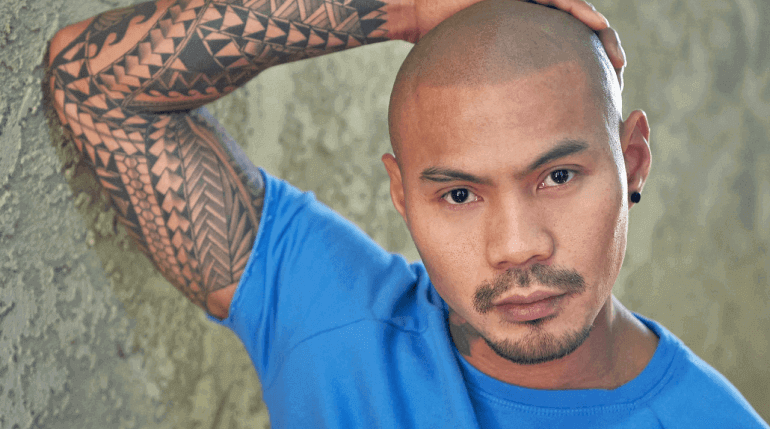 We will provide suggestions for products to use to maintain your treatment. Please check the link to our products recommendation page.
Will it affect the treatment if I continue to shave my head?
The micropigmentation process is permanent, shaving your head will not damage it in any way. Many of our clients shave their heads after treatment without affecting the pigment. Just be sure to follow the after-care instructions that are given out by the practitioner to preserve the treatments for best results.
How do I best protect my SMP from sunlight?
The best way to protect your scalp micropigmentation from sunlight is to avoid long-term exposure. If you plan to be outdoors in the sun any longer than an hour, it is highly recommended that you apply a high SPF sunscreen to the skin of your scalp. You can also wear a hat that covers the entire scalp.
How much does SMP cost?
The average cost for treating Norwood class two to class four hair loss is $2400-$3400. Norwood class five to class seven hair loss is $3400-$4200. Top of the scalp with scar concealment can cost anywhere from $4200-$5200 for two to three treatments. Clients who require scar concealment treatment alone can expect to pay around $800-$1000 per session.
When are the payments due?
We ask that every client put down a $400 deposit to secure a booking with one of the practitioners at ZangSMP. The sooner you act, the better as we currently have a waiting list that can have clients waiting for up to eight weeks to get an appointment. Once treatments are administered, clients will split the cost over two sessions. We offer financing for scalp micropigmentation, feel free to inquire about these payment options.
How do I get started?
Give us a call at 310-425-4975 or email us at info@zangsmp.com to schedule your initial consultation . ZangSMP has worked with clients all around the world and we can work with you as well, no matter where you might be based at the moment. Just send us a clear photograph (angled top down from a bird's eye view) of your scalp or the scar you wish to conceal and we will analyze it.

From there, we reach out to contact you and set up a time to discuss your concerns, your goals, and any other questions you might have about the scalp micropigmentation procedures and techniques that we employ at ZangSMP.
Send us a message